Les Arts Florissants was founded by Franco-American conductor, William Christie, in 1979. Passionate about baroque music, he came to France in the early 70s and reintroduced the French audience, and therefore the world, to a style that had been out of favor. William Christie's ensemble, Les Arts Florissants, gained public recognition in the 1980s, with its performances of "Atys", an opera by French baroque and until-then-forgotten composer, Jean-Baptiste Lully (1632-1687). This breakthrough performance brought attention to baroque music and William Christie's work. Today, there are between 30 and 50 baroque ensembles in France and Europe, successors of Les Arts Florissants.
TGE: Today, what are the priorities, the mission of Les Arts Florissants?
Ms. Allaigre: Les Arts Florissants has grown and since 2017 is a foundation, led also by musical codirector, Paul Agnew. Our foundation focuses on three priority areas: musical programs, educational programs and cultural heritage.
First of all, the musical programs. In normal years, our ensemble performs around 100 concerts each year, in close to 20 countries. We work with over 200 artists for the orchestra and the choir! We create new musical productions and hold spring and summer music festivals in Vendée each year.
The second is education and transmission. Les Arts Florissants aims to reach new audiences and future generations so that the "spirit of baroque'" continues. We do this through international and local outreach and educational efforts around music, dance, and landscape design, and work with local schools in the Vendée or in cities where we hold performances. We have a partnership with the Juilliard School of New York for residencies and masterclasses, and 10 years ago this year, we launched the Jardin des Voix, an academy for young singers.
And the third is the root of William Christie's vision, it is patrimoine, or cultural heritage. Not only in terms of music ­­—intangible cultural heritage— but tangible, as well, beginning with the restoration of his historic property in Thiré, a tiny village in Vendée, where he has created a Jardin remarquable around his 17th century home. If you look at this from his point of view, it is a baroque vision as well: where there was an empty field and a house in ruins, he saw potential. William has said that "Old music is new music," and as he gave life this abandoned music, he has done so with this property, where every summer for 10 years now, he welcomes thousands of people from across the world to our summer festival to share his love of music and gardens.
And our work continues with the Quartier des Artistes, an audacious project to restore 10 structures in Thiré, creating an international artistic and cultural campus dedicated to music, gardening and cultural heritage.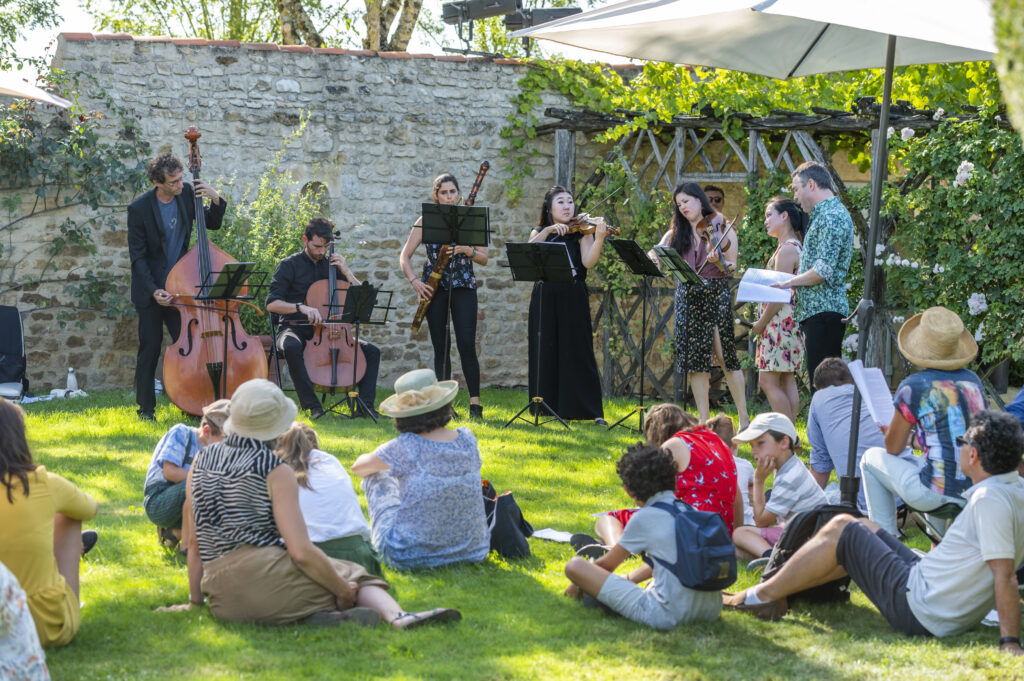 TGE: The pandemic has certainly been a huge obstacle for Les Arts Florissants in 2020, how do you cope with it? Do you have some flagship projects happening currently in line with the current situation?
Ms. Allaigre: One of the productions we recently completed was Mondonville's opera, Titon et l'Aurore, at the Opéra-Comique. The debut of this opera was originally scheduled for January 18, but the continued government restrictions cancelled this, of course. So, on January 19, the opera was performed (to an empty room!) and live streamed for free on Medici TV. We will also film the performance for future broadcast. Tough times!
In 2020, as it was the case for many musical organizations, our concerts were almost all cancelled. Our spring festival became a virtual one, and between the two confinements, we were able to hold the summer festival under very strict measures. One of the things that we have learned is that we had to reinvent ourselves to be online.
So, one of our flagship projects I think is our online presence, which is a lesson learned from the pandemic. We had to remain connected to our audience, certainly remain connected to our artists, and give them work, and remain connected to our supporters. We have been able to do that thanks to online conferences and events, online concerts that we created, the virtual Festival de Printemps, free access to recorded performances with the #ArtsFloSummer and #ArtsFloWinter series, video messages, and more. These efforts have been very effective in allowing Les Arts Florissants to remain present and to create new content. Very important and inspirational, as well!
I think it is also important to talk about our ongoing work. We are planning our concerts, rehearsals and projects as if the pandemic will end. We are continuing, we have plans. If, for example, we cannot have audiences, we will record performances! The work in Thiré, the restauration and the preservation, that is advancing, as well. We have a fundraising project for the Quartier des Artistes— in June, we will privatize the Sainte-Chapelle in Paris for a concert where William Christie will play the music written for the Sainte-Chapelle! We have no choice but to continue.
TGE: Continuing to believe, yes. It must be hard on a daily basis…
Ms. Allaigre: It is very difficult for our musicians; the situation can seem overwhelming. However, from a fundraising point of view, 2020 gave us an opportunity to connect with donors in a different way, thanks to online giving and social media. My concern is going into 2021 and beyond. Donors knew that artists and cultural organizations were in distress in 2020, and they gave more than in previous years, many for the first time. This support will hopefully continue! It is a very big concern, but I think that the fact that we keep on working, producing, going with our concerts, it will help, it has to.
TGE: You don't plan anything online for the educational aspect for the moment?
Ms Allaigre: We are advancing with an upcoming masterclass via Zoom and advancing our spring programs with the Juilliard School. We also have a project to partner with Google Cultural Institute to bring culture online for everyone! Many projects in the works!
TGE: Is your decision to join the TGE network part of an international strategy? Or is it due to the current pandemic? Why did you decide to join?
Ms. Allaigre: Because Les Arts Florissants is a regional AND international organization (we tour the world!), I believe we have people everywhere who wish to support our work! The key though is to make it easy. The TGE network is a logical progression for us to expand opportunities to collect money and to reach new donors. We have been part of the TGE network for a while, but never really promoted it. Now the online solution exists, and we are proud to be among the first organizations to be part of it. Thank you for facilitating giving across Europe! It gives us the opportunity to promote the tax benefits of giving and to make giving easier. We have also created our own TGE brochure which is sent to donors requesting it, along with the link to the TGE online platform. TGE brings opportunities for Les Arts Florissants. It is a great effort, and I think it is the future.
Concerning online giving, I would say that les Arts Florissants is now catching up with those organizations who have had this option since the early 2000s. As I mentioned, the ability to support an organization must be facilitated at every level. It has to be easy, otherwise you lose opportunities. The TGE network helps us make giving easy. What TGE has done is a huge step forward from where we were one year ago.
TGE: What are your important projects for the future, in the short and/or long term?
Ms. Allaigre: I think our most important project and desire is to begin performing and touring again. We want to be able to work in a normal capacity. At the same time, we have several video projects with William Christie and Paul Agnew in the works.
We are still organizing concerts, even for 2022, so we are continuing to advance. My goal is to complete the funding of the Quartier des Artistes by the end of this year, so that the work can truly be finished for that project. From a fundraising point of view, we have an endowment fund and through this we would like to ensure the long-term funding of Les Arts Florissants. It is a priority for us to enrich our fonds de dotation.
About the Fondation Les Arts Florissants – William Christie
Website: https://www.arts-florissants.org/
Contact information: https://www.arts-florissants.org/informations-et-contacts.html
Do you want to support Les Arts Florissants?
Make a donation here! Click on the online donation page for:
European donors: https://donate.transnationalgiving.eu/landing/artsflorissants?lang=en_EN
French donors: https://fs10.formsite.com/MHLQbN/w11byzhafm/index.html?1585575431602