WeForest is an international NGO with headquarters in Brussels, Belgium, focused on Forest and Landscape Restoration (FLR) across the Tropics.
They develop scalable and high-quality forest restoration projects that include the regeneration of degraded areas, the protection of forests and the development of livelihoods activities which will guarantee that the surrounding communities see real value in standing and thriving forests. They embed their work in science for impact monitoring, best practices dissemination and research around forestry, carbon and water cycles.
The staff is currently made of 40 professionals, of which 70% are based in the largest projects where we operate.
TGE: Has WeForest been impacted by the Covid-19 pandemic? Do you have any special initiatives happening right now?
Mrs. Keijzer: 2020 was a challenging year for everybody. WeForest was no exception, although thankfully a lot of the restoration work in our projects could continue since this work is rural. Field crews followed safety protocols such as using masks, disinfecting vehicles and equipment, supplying disinfectants to staff and respecting social distancing. Fortunately, in our HQ most of us were already used to working remotely so the transition to working from home was a smooth one.
Special initiative: planting seeds of hope by securing the next harvest in Ethiopia Tigray
For Ethiopia, 2020 was more of a challenge than most other countries. The people in the region of Tigray in the North of Ethiopia are facing a severe crisis: a dry spell, an internal conflict, crop damaged by locusts' swarms (meaning that farmers are struggling to feed their families) and the COVID pandemic.
Aid agencies are focusing mainly on first aid: very little help reaches the remote villages where farmers cultivate their small plots. WeForest has been active in remote villages two to three hours East of Mekelle for four years and can see firsthand that people will not make it unless the next harvest is secured. The clock is ticking for these 23.000 families in Tigray, Ethiopia.
WeForest usually restores forests and lifts people out of poverty. But, right now, our usual work simply isn't enough. We know these people in these remote villages in Tigray and we know they can't wait, so we have decided to take action.
With two million dollars, we can buy enough seeds for over 110,000 people so they can plant in May, harvest in November and feed their families for a whole year. That support makes anything possible again! This is only the equivalent of 18 dollars per person. Preparing now for the next harvest in November is as important as immediate relief aid, because when Tigray is no longer making headlines, these families will be on their own.
We want to make sure they have a future to look forward to.
We normally don't ask for donations, but under these circumstances nothing is normal. To the readers of this interview: you can help make this happen by donating today (see at the end of the article). Any additional information can be found on our website.
TGE: What about other programs or actions? Could you give us some examples of the ones you have recently led or implemented? Where are they taking place (in Belgium, abroad)?
Mrs. Keijzer: We have developed and are running our own large-scale projects in Zambia and Ethiopia and co-implement other projects in India, Brazil, Tanzania, Senegal and Malawi. Twelve projects are active in seven countries across three continents where we cooperate with a variety of business partners, NGO's, trusts and foundations, research institutes, and international funding agencies.
Example: The Restoration of the Miombo forest in Zambia
In the Luanshya district of the Zambian Copperbelt, WeForest works with hundreds of small-scale farmers, providing them with training and tools to diversify their sources of income while they grow and protect local forests. As a result, they receive a higher income, diversify their economic activities and learn new skills. The project also links the farmers to local private sector companies to create a market for their honey and develop a financially sustainable future.
TGE: You joined the TGE network some time ago, what were the reasons initially for your decision?
Mrs. Keijzer: We joined the TGE network to enable our international supporters to fund us, and make it more accessible for donors across Europe and the United States to join our movement. It has allowed us to receive some larger donations that we would have otherwise not been able to receive.
TGE: What do you think now about the concept of a TGE Online Giving Platform?
Mrs. Keijzer: We love it! It simplifies things, both for us and for donors. Working with many different foundations that have their own procedures and templates meant we had to spend quite some time on the administrative side of things. We also realized the process could be a bit confusing for donors as the instructions were different for each country. Another challenge was to receive the relevant contact information from the donors in order to keep in touch and thank them for their involvement. Having a TGE online giving platform streamlines all of this and brings everything together in one place: this means less admin for us, allowing us to focus on scaling our impact and growing more trees, and more ease and peace of mind for donors.
TGE: How will the platform fit with your fundraising efforts? Do you think having an online giving TGE page will help you overcome some of your current challenges?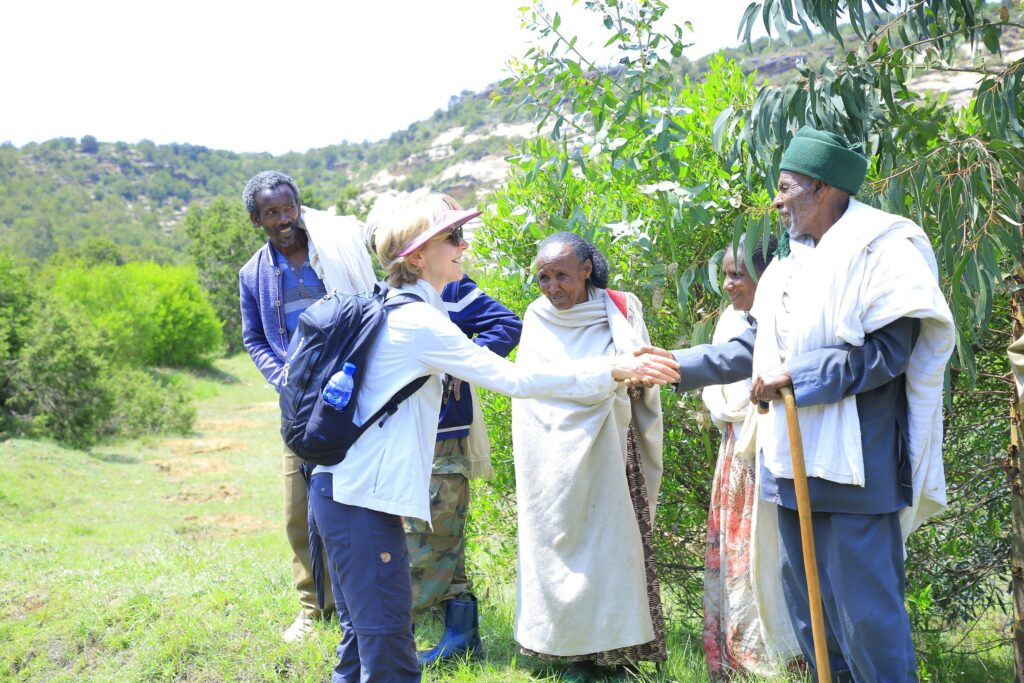 Mrs. Keijzer: Historically, most of our funding has come from corporate sponsors and we are diversifying. The more diverse, the more resilient (just as with forests)! We believe that having an online giving TGE page will help us with reaching more people around the world, making it easier for them to join the movement. . .
TGE: What are the next steps for Weforest? Your projects for the future (short/long term)?
Mrs. Keijzer: Our ambitions for the next 10 years are to continue scaling our impact and demonstrate conservation & restoration best practices, as well develop models and momentum to drive the global scaling of nature-based solutions for others to replicate.
We currently aim to reach 85 000ha or (100 million trees) under restoration by 2024, and in the short term – to support the 23 000 families that need our immediate support in Ethiopia. We will focus on making that happen with the support of the TGE Network and who knows… We might be able to do even more!
To learn more about WeForest…
Website: https://www.weforest.org/
Contact form: https://www.weforest.org/page/contact-us-make-earth-cooler
Want to make a contribution?
Donate here: https://donate.transnationalgiving.eu/landing/WeForest?lang=en_EN